HUDSON COUNTY MUSICIANS!  HUDSON WEST WANTS TO MEET YOU
Hudson West Fest is a one-day acoustic/roots music festival in Jersey City.  This year's festival will be held on Saturday, September 23, 2023 at the Nimbus Arts Center downtown.  
Each year, the festival showcases two up and coming artists from Hudson County, alongside more established musicians. We want to present artists who have not recorded or toured widely but who may be looking for ways to take that next step. We are open to all styles of acoustic music that reflect the diverse cultures and concerns of the people of Hudson County. This is an opportunity for local performers to be seen by the festival audience and by music professionals. 
HERE'S WHAT YOU NEED TO DO
Send a link to two original songs, together with the lyrics and your contact information (address and telephone #) to:  performers@hudsonwestfest.org.  Songs should represent your unique style.  There is no charge to apply.  Submission deadline is July 31, 2023.
Here Is What We Are Looking For
Performances must be done by three or fewer performers, each of whom reside in Hudson County.  We're looking for up-and-coming acoustic artists, which we define as musicians who have not yet released multiple albums, have a large fan base, or are successfully touring.  Our mission is to assist the youth of Hudson County to gain on-stage experience.
What Happens Next
Entries will be judged by a panel of local music professionals. Performers will be chosen based on several criteria, including originality, musicality, story-telling and stage presence. 
The two musical acts that are selected will each have a fifteen-minute set at the festival. Your names and bios will be featured on our website and in our promotional materials and you will receive a professional video of your performance. 
Questions?  Email us at: performers@hudsonwestfest.org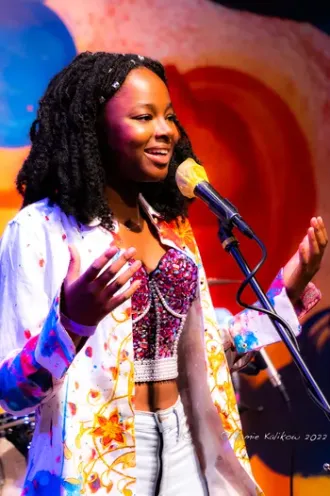 Please spread the word to anyone who may be interested in submitting their work!